Brighton player 'shown sex assault photo'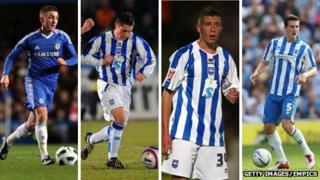 A team-mate of four footballers accused of sexually assaulting a woman in a hotel has told a court he was shown a photograph of the alleged incident.
Ben Sampayo said he was asleep in the Brighton hotel room where the footballers were with the 19-year-old. She had been a club with them.
He said one of the players showed him a mobile phone picture when he woke up.
Anton Rodgers, 19, Lewis Dunk, 21, George Barker, 21, and Steve Cook, 21, deny sexual assault and voyeurism.
Mr Sampayo told the Old Bailey jury he did not remember which player showed him the photo.
'Little recollection'
He said he went back to sleep but awoke later to find the woman was awake.
"She seemed fine," he said.
Mr Sampayo said he and other players from Brighton and Hove Albion had gone out to celebrate after winning the Sussex Senior Cup in July 2011. Mr Cook now plays for Bournemouth.
Mr Sampayo remembered a group walking back to the Jury's Inn Hotel with the woman in the early hours.
But he said he had been drinking and had little or no recollection of what happened.
Interviewed by police
The prosecution alleges the players assaulted the drunken woman when she was asleep and took pictures as a "record of their conquest".
Mr Sampayo was interviewed by police after being arrested with the others in January last year.
He was not charged but but five months later was summoned to the magistrates' court and ordered to make a statement.
Asked by prosecutor Richard Barton: "Do you want to be here today?", he replied: "No."
The trial was adjourned until Monday.