Peacehaven tenant Ryan Bishop gets £74,000 water bills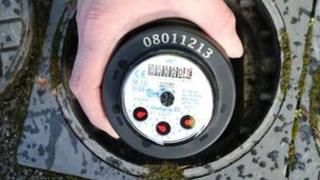 A tenant has had water bills of £74,000 because of a leak outside his home.
Ryan Bishop, of Peacehaven, Sussex, ended up in a wrangle with two water firms and the developer of his rented home over bills of £33,000 and £41,000.
South East Water and Southern Water have since said Mr Bishop will only pay for normal usage and the developers were being contacted about the leak.
Bovis Homes, which built the house, said it heard about the issue on Monday and was working to find out the facts.
Scaffolder Mr Bishop said the leak was suspected six months ago when his meter showed he was using 50 times more water than he should.
He said the house was still under guarantee and he reported the issue to Bovis Homes and his landlord.
"Six months later, I got the first bill for £33,000. And they said I owned it and I had to pay it," he said.
'Bit of a nightmare'
He said he reached an agreement with supplier South East Water over that bill, only to receive another from waste water company Southern Water for £41,000.
Mr Bishop said: "That was a bit of a nightmare. I'm just waiting for them to get back to me now to see what's going on but I'm not going to pay it."
Describing the bills as "a bit of a whopper", he said: "I'd like to earn that in a year, let alone have the bill for it."
South East Water said it was adjusting the bill to normal usage and investigations were ongoing about the wasted water. It said it would contact the developer.
Southern Water said its bill was calculated using South East Water readings and the amount would be adjusted.
In a statement, Bovis Homes said: "Since this matter was raised with us on Monday we have investigated and can find no written record of any party contacting us via either phone, email or post.
"This has obviously developed into a very unfortunate situation and if we had been properly informed at a much earlier stage we could have worked with everyone involved to ensure corrective action was taken."