Brighton Station £5m remodelling work starts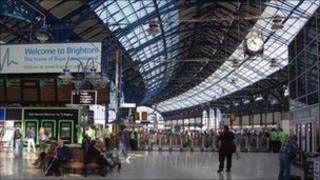 Work on a £5m project to remodel Brighton Station to allow better views of the historic train shed has started.
The project will also include twice as many ticket gates, a new ticket office and a cafe.
The WH Smith building inside the station will also be demolished and the departure boards will be moved to allow uninterrupted views of the station.
Southern Railway said the station would "once again" be the station it was designed to be.
The third archway at the entrance and exit will also be opened up to allow better access.