University of Sussex student protest 'going strong'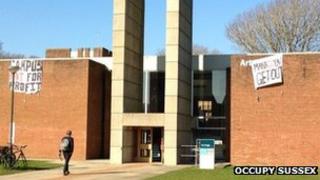 A protest over plans to outsource support services at the University of Sussex is "still going strong," demonstrators have said.
A sit-in began in the conference centre on 7 February following a 300-strong staff and student protest about proposals to outsource 235 campus jobs.
About 30 students initially entered the third floor of Bramber House, remaining in the Terrace Room.
The university said it was still engaged in talks with unions and staff.
A spokeswoman for the university has said it wants to improve its campus services as it expands.
It stressed that there would be no redundancies and that all staff would be transferred to new employers under legislation governing transfer of undertakings in the public sector.
'Growing and growing'
The demonstrators said they resorted to the peaceful protest after their views were ignored.
A spokesman for the protesters said officials had granted open access to the building between 08:00 GMT and 22:00 GMT a week ago.
He said the space was now being used for open lectures, and a number of high profile speakers and notable academics had given talks.
"Before this decision, security wouldn't let students enter," he said.
"Every time we had a demonstration, hundreds of students, staff and faculty would turn out.
"We've reclaimed part of the university. They [the university] are hoping the movement will dissolve out of tiredness, but it's just growing and growing."
A University of Sussex spokeswoman said the transfer of some services to an external provider was an "ongoing process".
She said the university was still engaged in talks with the unions and staff involved.