Hastings Pier rebuild to begin in summer, says charity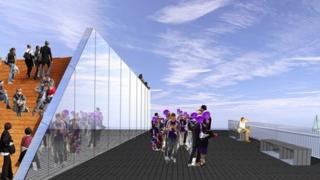 The trustees of a pier in East Sussex which was severely damaged by fire say rebuilding will begin in early summer.
The 140-year-old Hastings Pier was almost destroyed in the blaze on 5 October 2010.
A £11.4m lottery grant was awarded to The Hastings Pier and White Rock Trust for the restoration.
The trust has been fundraising to provide the remaining money needed and said once paperwork is sorted work can begin in June.
Simon Opie, chief executive of the charity, said: "We have now started recruiting our project team, so that we can hit the ground running as soon as we get the final go-ahead."
Peter Chowney, lead member for regeneration at Hastings Borough Council, said: "Like everybody else I am looking forward to seeing the restoration work underway.
"I know that the rebuilding of the pier will become an attraction in its own right, but I'm really looking forward to the day when I can stroll down a completed, reopened pier even more, of course."