Accused organist's previous conviction for sex abuse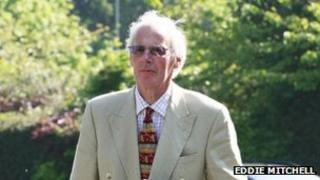 A church organist and choirmaster who is accused of historical child sex abuse was convicted years earlier of abusing a boy, a court has heard.
Michael Mytton, 68, from East Chiltington, East Sussex, has denied aiding and abetting indecent assault.
In 1981 Mr Mytton was forced to leave his position at a church in Uckfield after being convicted of two counts of gross indecency on a 12-year-old boy.
The jury at Hove Crown Court heard he had admitted he liked boys.
Mr Mytton also denies five counts of indecent assault against two boys between January 1987 and September 1994.
The court was told that during an interview with police Mr Mytton said: "I like boys, I know I like boys and it has cost me everything."
He made the admission while being questioned by police over historical claims of child sex abuse against him and priest Father Keith Wilkie Denford.
Mr Denford, 78, who was the vicar of St John the Evangelist Church in Burgess Hill, West Sussex, is alleged to have molested two boys over an 18-month period from when they were aged around 13 in the late eighties.
Earlier the jury was heard that Mr Denford abused one of the boys aided by Mr Mytton following a meal at a restaurant in Cuckfield, and while in the back of Mr Mytton's Jaguar car.
The court heard that during the police interviews Mr Mytton denied having sex with the boy but conceded that he was "fond" of him, and kept pictures of him.
He said he had never talked about his sexual preferences with Mr Denford and that the pair would speak about music and religion instead.
When asked about whether he thought Mr Denford would sexually abuse boys, Mr Mytton replied: "No, I'm astonished and angry.
"I cannot believe that he would do that and I don't think he would have done that."
He told police that he knew that the gross indecency he was convicted of in 1981 was "wrong" but that it had not been repeated.
Previously the court was told that it was not until last year that police were alerted after one of the boys, now in their late 30s, found out that Mr Denford was still in contact with children.
Through police investigation, the name of a third boy emerged and he disclosed that he suffered abuse at the hands of Mr Mytton, of South Road, East Chiltington, from around 1990 to 1994 when he was aged 10 or 11.
The case continues.