Changed route agreed for Brighton March for England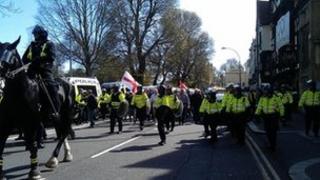 This year's March for England in Brighton will see a changed route to minimise disruption, police have said.
Sussex Police has unveiled details of the policing operation ahead of the nationalist march on 21 April and any counter-protests.
Officers warned people to expect some disruption and more stop-and-search checks than usual.
Last year, police defended their handling of the march after officers said a strong presence was necessary.
Acting Ch Supt Steve Whitton said police had maintained open discussions with march organisers and had recommended a change of route along the seafront this year, which had been agreed.
'Risk of disorder'
He said the changed route was to minimise disruption to the city.
Mr Whitton said it was expected that, as in previous years, a counter-protest would take place.
Anti-fascist groups have previously held counter-protests, but March for England have denied their group is a far-right organisation, describing themselves as an English pressure group.
The police presence would be proportionate to the information police had received about the march and counter-protest and the priority was public safety, Mr Whitton added.
"Due to the risk of disorder on the day we are likely to be stopping and searching more people and have pre-authorised powers to do this under Section 60 of the Criminal Justice and Public Order Act 1994," he said.
He said officers had been speaking to businesses and residents along the route and were working with travel companies to minimise the impact on the city.
The annual St George's Day march will start at Madeira Drive and go along the A259 to Middle Street and back.
Road closures will be in place and the route will be fenced.