Sussex Police set-up website for seized jewellery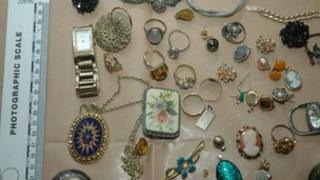 More than 1,000 items seized by police from a jewellery shop have been displayed on the internet in the hope of reuniting them with their owners.
Most of the stock at Ebony Jewellers, in South Street, Chichester, was seized by officers looking for suspected stolen property, said Sussex Police,.
No arrests have been made. The shop was contacted but did not wish to make a comment.
Among the items posted on the website are jewellery, clocks and silverware.
It is estimated the stock, which was seized on 6 April, is worth between £250,000 and £500,000.
Sgt Jason Vickers said: "We like to reunite owners with their property wherever possible and are inviting anyone who has been burgled in central and West Sussex, East Hampshire or South West Surrey in the past 12 months to log on and have a look."