Princess Royal Hospital pays £8.5m to disabled boy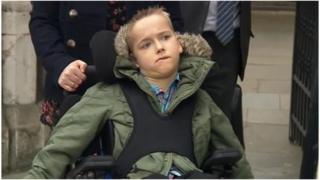 A seven-year-old boy who suffered severe brain damage during his birth has been awarded an £8.5m in compensation at the High Court.
Alfie Buck, from Horsham, has cerebral palsy and suffers painful spasms.
His lawyers told the High Court staff at the Princess Royal Hospital, in Haywards Heath, failed to monitor him sufficiently during labour.
Brighton and Sussex University Hospitals Trust apologised for the pain caused to Alfie and his family.
His lawyers told the court that staff failed to monitor his heart for more than 12 hours during labour and should have delivered him by emergency Caesarean because he was starved of oxygen.
'Truly an inspiration'
They claimed that if he had been delivered 20 minutes earlier it was highly likely he would not have been born with brain damage.
He now needs 24-hour support, is completely reliant on a wheelchair and has to use technology to communicate.
His mother Samantha said: "The cerebral palsy affects all his limbs making movement very difficult, but his mind is very bright and he can communicate by using specialist equipment that tracks eye movement.
"He continues to amaze us and his teachers at his specialist school and he truly is an inspiration.
"Having said that, caring for a child with cerebral palsy has to be the toughest job in the world as it is 24/7 and consumes your life."
A spokesman for the trust said staff hope the settlement will ensure that Alfie receives the best available care and support throughout his life.
'Exceptionally sorry'
"We have previously admitted full liability for the brain injury Alfie sustained at the time of his birth in March 2006," he said.
"We are exceptionally sorry for the pain and distress caused to Alfie and his family as a result of the unacceptably poor care he received.
"We have learnt lessons from what happened and changed practice as a result."
A lump sum of £3.85m, plus life-long periodical payments will fund a new wheelchair-accessible home for the family with space for live-in carers.
It will also pay for physiotherapy, transport, education, specialist equipment and support.