Hastings council faces pier compensation bill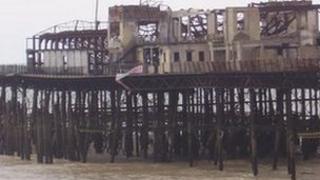 Hastings council faces a compensation claim of hundreds of thousands of pounds after losing a High Court battle over its closure of the town's pier.
The court ruled Stylus Sports, which ran a bingo hall and amusement arcade on the pier, was entitled to a payout over the emergency closure in 2006.
The pier was closed to the public after it was found to be structurally unsafe. It was further damaged by fire in 2010.
The council said paying compensation would cut its spending elsewhere.
Samuel Townend, barrister for Stylus Sports, said the company had been unable to do any business after the pier was shut.
'Loss of goodwill'
"Stylus Sports were concerned about the structural stability of the pier back in 2004," he said.
"They had structural surveys carried out and when Ravenclaw, who were their landlord, refused to do anything about it they passed that on to the council in January 2005.
"Had they acted earlier it is possible they could have avoided this compensation claim.
"There is loss of business and loss of business goodwill. It could come to several hundreds of thousands of pounds."
The East Sussex council bought the 140-year-old pier by compulsory purchase last year after Panamanian company Ravenclaw failed to respond to official notices to carry out repairs.
Ravenclaw has not responded to approaches by the council for several years.
Hastings Pier and White Rock Trust has now been awarded a £11.4m lottery grant to restore the structure and build a new visitor centre, with work expected to begin this summer.
Kevin Boorman, spokesman for Hastings council, said the potential compensation bill was a "massive amount of money" that it would like to spend on the good of Hastings.
"This year we had to make 40 posts redundant because of budget cuts," he said.
"If we have to find that amount of money, that is (money) we can't be spending elsewhere."