Brighton's 'peaceful' March for England sees 20 arrests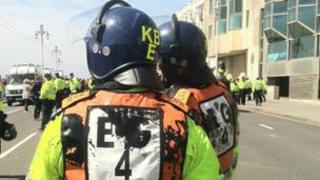 A nationalist march and counter-protest in Brighton passed "without significant incident", Sussex Police have said.
Missiles were thrown at marchers, bricks were thrown at police horses and officers were attacked with stones and ink, but the march was largely peaceful, officers said.
Twenty arrests were made for public order offences, affray, assault, theft, criminal damage and possessing weapons.
Five people were charged and are due to appear in court next month.
Police said six other people received fines and cautions, no further action was taken against three of the people arrested, and six more people were bailed until July.
Supt Steve Whitton said there were some injuries after missiles were thrown but none of the injuries that police were aware of resulted in hospital treatment.
'Largest' police operation
He said incidents of disorder happened around the city centre as people made their way to the march.
"It appears that the vast majority of the disorder that occurred was carried out by a small minority from within those who were there to oppose the march," he added.
One woman tripped and fell and needed treatment for a head injury and another woman whose eye injury was believed to have been caused by something that was thrown was taken to Sussex Eye Hospital, he said.
Officers have estimated about 250 people took part in the march, with up to 1,000 counter-protesters.
Supt Whitton said it was a significant policing operation, but he was satisfied it was "proportionate and appropriate".
The cost of policing it is thought to run into several hundred thousand pounds.
About 700 public order police officers and horses were deployed from across the country in what Supt Whitton said was thought to have been the largest policing operation in Sussex for some years.