'Much-loved' Brighton elm tree set to be saved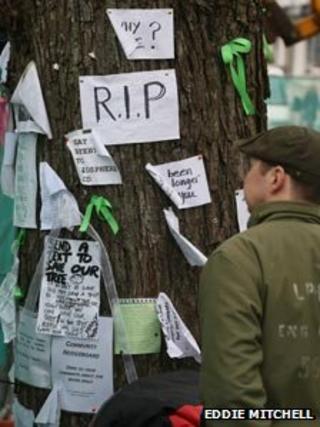 A "much-loved" tree in Brighton that was facing the chop is set to be saved.
Last month two protesters spent 48 hours in the elm, which was to be felled as part of the Seven Dials junction improvement scheme.
Its roots were damaging the pavement and blocking the view of the pedestrian crossing, Brighton and Hove Council said.
Councillors will now be asked to agree to narrow the road and widen the pavement.
The Seven Dials junction has been the scene of 20 accidents in three years, more than any other in the city.
East Sussex has one of the country's largest populations of mature elms after controls were set up in 1973 to limit the spread of Dutch elm disease. Since 1998, Brighton and Hove has held the National Collection of Elms.
Campaigners had insisted the tree, on Vernon Terrace, should be kept because it survived the disease.
Plans to fell the tree were put on hold following the protest. A petition to save it was signed by 4,318 people.
'Much-loved tree'
A council spokesman said the proposed solution was to narrow the road at the entrance to Vernon Terrace, enabling the pavement to be widened to 1m (3ft 3in) on either side of the tree.
He said the gap of about 1m (3ft 3in) between the tree and a nearby wall would be less than the recommended minimum of 1.2m (3ft 11in), aimed at allowing enough space for wheelchairs and mobility scooters.
Drivers and pedestrians would be able to see each other far better, he said.
Transport committee chairman Ian Davey said: "It is clear that this tree is much-loved by the local community, so I am delighted that our transport team have been able to redesign this part of the scheme.
"It's not perfect, but we have found a way to incorporate the tree within a much wider pavement, with a smoother surface.
The transport committee is expected to approve the layout changes at a meeting on 30 April.