Eastbourne Langney Centre traders refuse to pay rent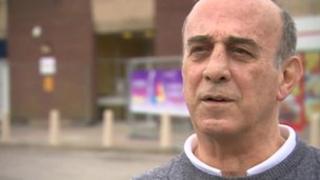 Traders at an East Sussex shopping centre are refusing to pay rent because they have been unable to open since the roof collapsed in December.
Repair work has just begun at the Langney centre in Eastbourne, which has been closed since it was declared dangerous after the collapse.
Eastbourne MP Stephen Lloyd said it was completely unacceptable that traders had been sent invoices for the rent.
The centre's owner said public safety had to take priority.
Fleur El-Hspa, from Picasso Express, said the traders were told work would commence on 1 April, but it was delayed.
"We've got myself, my husband, my son and my daughter all out of work," she said.
"We must have lost thousands. It's going to be hard work when we do reopen."
Cafe owner Louie Loizou said: "They have asked us to [pay rent] but obviously none of us are in the position to.
"We just can't do it and if we end up in court we will just have to fight it."
'Not their fault'
Eastbourne MP, Stephen Lloyd, said it was "completely unacceptable" for the independent traders to pay.
"I will continue to lobby the owners," he said.
"I am on the side of the independent traders. The roof fell on them - it was not their fault and they should not be paying rent."
Owner London and Associated Management Services said contractors were now on site and scaffolding was being erected.
"We are hopeful that the work will be completed before the end of July," it said.
"The work has been phased to enable elements of the centre to reopen before the whole of the works are complete.
"The time taken for structural engineers to complete their investigations and to agree an appropriate schedule of works to repair the roof is not something over which we had any control."
It also said it had submitted plans to Eastbourne Borough Council to extend the shopping centre.
The council said it had approved an application for the re-instatement of the collapsed roof.
"Further remedial work to strengthen the structure of the remainder of the roof has been proposed which we believe will make the building safe," it added in a statement.
"We are still waiting for the structural report, commissioned by the owners, on the building from civic and structural engineers."