Crowborough UKIP candidate Anna-Marie Crampton suspended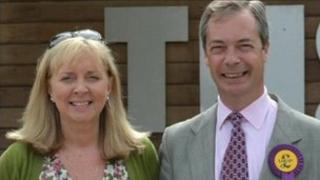 A UK Independence Party (UKIP) candidate in East Sussex has been suspended by the party over reports she posted anti-Semitic comments online.
Anna-Marie Crampton was due to stand for election in Crowborough in next Thursday's county council elections.
Comments made in her name on a website in February claim the Jews deliberately caused World War II and sacrificed their own people in the gas chambers.
She has denied writing the remarks, and said her account had been hacked.
'Incredibly offensive'
UKIP leader Nigel Farage said: "I've learnt about this, I've looked at it, and from this moment she does not have the endorsement of our party."
The comments appeared under Ms Crampton's name in relation to an article posted on a website called Secrets of The Fed.
The article read: "The Second World Wide War was engineered by the Zionist jews and financed by the banksters."
Richard Ferrer, of The Jewish News, said the comments were "incredibly offensive".
"But it isn't just a Jewish issue. Saying that Zionism caused the Second World War isn't just an insult to the six million Jews that were killed in the Holocaust.
"It's an insult to all the British soldiers killed trying to rid Nazism from the world," he said.
'Been trolled'
On her Twitter account earlier - which has since been closed - Ms Crampton refuted the comments.
She said: "I'm not anti-Semitic. I never said I do not believe in the Holocaust.
"I've clearly been trolled."
She added: "Further, my great-grandmother was Jewish on my mother's side."
Ms Crampton's name will still appear on the ballot paper at next week's election even though she has been suspended pending an investigation.