Nurse suffers serious eye injury in March for England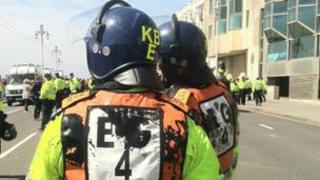 A nurse may have suffered permanent eye damage after being caught up in a nationalist march and counter-protest in Brighton and hit with a missile.
The 25-year-old Brighton woman, who had arranged to meet a friend on the seafront, was hit in the face with an object as she tried to pass the crowds.
She was treated at Sussex Eye Hospital on Sunday. Sussex Police said permanent damage had not been ruled out.
Five people were charged following the march and will appear in court in May.
Det Ch Insp Carwyn Hughes said: "It would appear that this lady has been very unfortunate in having coincidentally been close to two men who seem to have been the targets of the missile thrower.
"She recalls that both the men were shaven-headed and had heavily tattooed arms.
"There were a number of minor injuries caused by missile throwers on the day, but this is far more serious and we would like to speak to anyone who witnessed the incident, especially any of the people who went to the woman's aid."
'Officers attacked'
Sussex Police said missiles were thrown at marchers, bricks were thrown at police horses and officers were attacked with stones and ink.
Twenty arrests were made for public order offences, affray, assault, theft, criminal damage and possessing weapons.
In addition to the five people who were charged, six others received fines and cautions, no further action was taken against three of the people arrested, and six more were bailed until July.
Officers estimated about 250 people took part in the march, with up to 1,000 counter-protesters.