Trevor the celebrity seal makes a splash in Seaford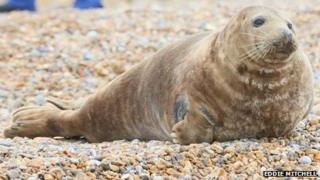 A grey seal which has turned up on a Sussex beach to moult has become a celebrity, with hundreds of people coming to see it.
Intrigued visitors have been descending on Seaford beach in East Sussex around the clock to view the solitary seal.
At one point a coach full of tourists turned up to watch the seal, dubbed "Trevor".
Wildlife experts say Trevor is healthy but will remain listless during the moulting season.
He turned up at Seaford on Sunday after having been spotted earlier east of Eastbourne and then at Beachy Head.
Energy conservation
Trevor Weeks, founder and director of East Sussex Wildlife Rescue and Ambulance Service, said: "He could be here for a few weeks or may decide to move on.
"But it is unusual for a seal to be solitary. They normally moult in a colony."
Mr Weeks, who remained with his namesake through the night, said seals tend not to eat during moulting and conserve their energy.
BBC Sussex's Simon Jenkins said the most activity he had seen from Trevor since he arrived at the beach was a solitary wave of his flipper.
Hundreds of visitors
"But the real story is the number of visitors," he said. "I would say hundreds of people have been coming down to see him."
Coastguards have cordoned off an area 100m around Trevor, but visitors have continued to stream to the seafront, taking photos of the novelty tourist attraction.
The last of the night-time spectators left at about 02:30 BST and the first of the new day arrived about two hours later.
Mr Weeks said a group of young people had been shining laser pens towards the seal, but they had been moved.
Last month another grey seal was spotted on the beach nearby, but vets had to put it down because of illness and injury.