People from ethnic minorities 'should apply' for Brighton jobs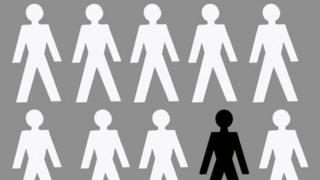 People from ethnic minorities are being urged to continue to apply for jobs at Brighton and Hove City Council.
The call follows a report commissioned by the council that suggested black and ethnic minority staff had been discriminated against at the authority.
The document said that there had been a "significant" fall in the proportions of black and ethnic minority people offered posts by the council.
It said Bangladeshi workers had not been appointed to posts, and accused some staff of harassing Irish people by circulating "inappropriate jokes" about their ethnicity via email.
The report followed concerns raised by the authority's Black & Minority Ethnic Workers' Forum (BMEWF).
The review covered the period from 1 April 2009 to 31 March 2012.
The document found a "significant fall" in the proportions of black and ethnic minority people offered posts, dropping from 7.8% in 2010/11 to 2.9% 2011/12.
It reported that applicants with eastern European names alleged they had been repeatedly turned down for shortlisting, but were shortlisted when they reapplied with anglicised names.
The report said: "During interviews we heard reports from Irish staff relating to derogatory name-calling and negative associations (drunkenness for example) aimed at Irish people and we were made aware of the circulation of inappropriate 'jokes' about Irish people."
'Great shock'
The council employs more than 8,000 people, 5.3% of whom belong a black and ethnic minority group.
Green Party councillor Leo Littman, the authority's black and ethnic minority champion, said the concerns reported to him had come as a "great shock".
"I'm a native Brightonian, I've always felt that this is the sort of place where that sort of behaviour belongs in the distant past," he said.
"[The report] highlights the fact that although there are pockets of good practice in the council, there are still pockets of extremely poor practice and the overall culture needs to be changed."
The report said staff who did not have English as their first language and had discernable accents had reported being ignored by colleagues, and having had their competence dismissed.
Their colleagues would also "collude with the prejudice of customers who declare they 'want to speak to someone who speaks English' rather than support their colleague," the report said.
One interviewee told the document's authors that after about 25 applications and seven interviews, they got an administrative job working on temporary assignments at various council offices.
"In some offices people would accept me more easily and they would demonstrate appreciation when they noticed I was able to work to a high standard," the anonymous member of staff said.
"However, in one location I saw dismay in the manager's face when she realised I spoke with an accent.
"I was there only for a week and she used baby talk with me all the time.
"Some people just assume we are stupid for the fact that we don't speak English as the first language, giving us such a hard time.''
The report said staff from ethnic minorities staff were more likely to be employed in the most junior grades, less likely to be middle managers, and "far less likely" to be senior managers.
"Bangladeshi staff have particularly poor outcomes in this regard," it said.
'Problem needs fixing'
The document added an anonymous member of staff had said: ''My friends and family ask me why I work for the council.
"Everyone knows that this is not a great place to work if you're black."
Another worker said: "BME organisations know that we don't support BME staff. They say we don't look after our own BME people so why should they think that we will look after them.''
Mr Littman encouraged black and ethnic minority candidates to still apply for jobs with the authority.
He said: "We've identified a problem, it's a historic problem. We have decided that it is essential that it's fixed and we want all the input that we can possibly get from the BME (black and ethnic minority) community and from fellow authorities.
"From wherever we can get it, we need to fix this problem."
The report is due to be discussed by councillors in July.