Lindfield homes approved by Mid-Sussex District Council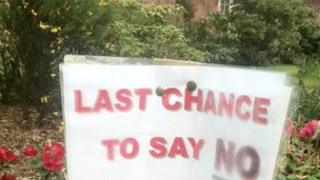 A housing development in a village in Sussex has been approved by councillors, despite protests.
The 230-home development in Lindfield was approved on Tuesday evening by Mid-Sussex District Council.
The homes will be built to the east of Gravelye Lane between Lindfield and Walstead and would be accessed through a smaller development being built.
John Ely, who was leading the campaign against the development, said the "road had ended" for the protest.
'Disappointing result'
The development will include 69 affordable homes.
Mr Ely said there were 1,200 letters of objection sent to the council.
"It was a very disappointing result," he said.
Concerns had been raised over whether the village's infrastructure could cope with more residents and traffic.