Shale gas firm meets with West Sussex residents over test drilling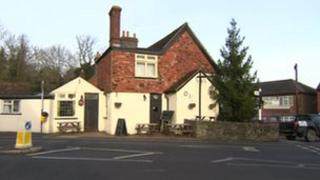 A shale gas company which is to carry out exploratory drilling near a village in Sussex is holding a drop-in session.
Cuadrilla plans to drill a 3,000ft (914m) vertical well and a 2,500ft (762m) horizontal bore to the south of Balcombe, near Haywards Heath, in June.
The tests will see if oil or gas, if found, could be extracted. The drop-in session is being held at Bramble Hall, between 16:00 and 20:00 BST.
The parish council said it had been told no fracking will be carried out.
Fracking involves pumping a mixture of water and chemicals into shale rock at high pressure to extract gas and oil.
Cuadrilla said the information session will allow members of the public to speak to company representatives.
'Tip of the iceberg'
Fracking was banned temporarily in the UK in 2011, after it was blamed for two earth tremors in Lancashire during drilling carried out by Cuadrilla.
A government review following the tremors concluded that fracking was safe if adequately monitored.
The drilling is expected to last about four months.
Brenda Pollack, from Friends of the Earth, said fracking would come with a "major cost" to communities and the environment.
"This is just the tip of the iceberg," she said.
"Fracking is not the answer to the energy challenges we face. We need a renewable energy revolution and investment in clean British energy from the wind, waves and sun."