Cleared diplomat John Yapp criticises Foreign Office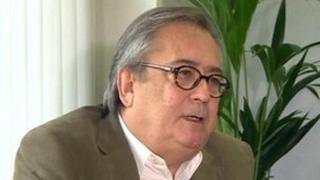 The former UK High Commissioner to Belize, who was removed from his post amid claims of sexual misconduct and bullying, has spoken of his "humiliating" fight to clear his name.
John Yapp, of Eastbourne, East Sussex, lost his post in 2008 over claims he inappropriately touched women.
The allegations were dropped but he then faced claims he had bullied staff.
The High Court ruled the Foreign and Commonwealth Office broke his contract and failed in its duty of care to him.
Mr Yapp said it had all been "profoundly humiliating".
He said he had an unblemished diplomatic career for 37 years before a former foreign minister in Belize alleged he had inappropriately touched women.
'Profound shock'
Three days later, on 13 June 2008, Mr Yapp was told by the Foreign and Commonwealth Office (FCO) that his position in Belize was untenable, and he was withdrawn from the post with immediate effect.
In August of that year, a disciplinary hearing heard doubts about the reliability of the evidence and the allegation of sexual misconduct was dismissed.
Mr Yapp said his dismissal as high commissioner had been a "profound shock".
"I found it incredible. I was the one person who knew from the outset that these allegations were completely untrue, but ironically I was the one person who was never asked for his side of the story."
He added: "Only after the allegations were proven on investigation to be a load of nonsense... then the Foreign and Commonwealth Office tried to build up the bullying allegations because suddenly they realised they had withdrawn a high commissioner quite unjustly and at considerable expense to the public purse."
Mr Yapp said he was withdrawn from Belize "without any fair treatment" and during the next five years "was personally rubbished" up until the High Court judgment.
'Acted reasonably'
"I totally deny any bullying took place and it is perhaps relevant to note that all of the individuals, bar one, who I'm supposed to have bullied no longer work at the British High Commission in Belmopan," he said.
During the course of the disciplinary procedure Mr Yapp developed depression, which he still suffers from.
He said: "My prospects are no longer what they once would have been if this action had not been so wrongly taken against me."
Mr Yapp, who retired in 2011 after being on sick leave, is now awaiting a compensation settlement after the High Court ruled earlier this month that the FCO had breached his contract and failed in its duty of care to him in withdrawing him from his post.
In a statement, the FCO said it was "disappointed with the finding".
"We believe we acted reasonably, and in accordance with our procedures. We will reflect on the judgement and consider [the] next steps."