Brighton council Green leader survives internal plot to oust him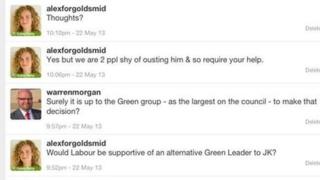 The leader of Brighton and Hove City Council has survived a plot to oust him by some of his own councillors.
Jason Kitcat was re-elected as the leader of the council at a meeting on Thursday.
Prior to this, Warren Morgan, Labour group leader, was contacted in a direct Twitter message by Green councillor Alex Phillips asking for help.
Labour did not support her proposal. Mr Kitcat said it was a "disappointing sequence of events".
The Greens are the ruling party but do not have a majority.
In the Twitter messages, Ms Phillips said: "Would Labour be supportive of an alternative Green Leader to JK?"
Mr Morgan responded: "Surely it is up to the Green group - as the largest on the council - to make that decision?"
Ms Phillips replied: "Yes but we are 2 ppl [sic] shy of ousting him & so require your help."
'A little unfortunate'
She then asked his group to nominate the deputy leader and Green councillor Phelim MacCafferty, as to her understanding each group could only nominate one person.
Mr Kitcat said: "Unfortunately one junior councillor was a little unfortunate in seeking to contact the Labour group, who then published it, and that's clearly a rather disappointing sequence of events.
"We [Mr Kitcat and Mr MacCafferty] spoke yesterday after council and he was very clear he had no involvement in this.
"So I'm not sure the statements of one councillor claiming support of 10 are necessarily completely accurate."
However, Mr Morgan said the Green Party was "irrevocably split".
"To ask an opposition group to help oust their party leader and choose a new one is utterly desperate and absurd.
"The Greens cannot now reasonably expect to run the city council."
The BBC has attempted to contact Ms Phillips but has so far been unable to reach her.