Bexhill drugs raid mistake 'based on wrong information'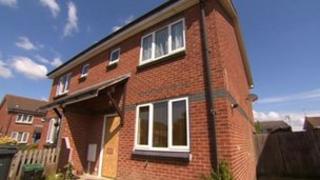 A mother-of-two has received an apology after police raided her home for drugs, but later found they had been given wrong information about the house.
Tracy Ripley was at work when the raid happened at her home in Bexhill.
She said she received a call to say she was needed at home and went back to find her house turned upside down.
Sussex Police said officers obtained a warrant but had received wrong information about the house. The force said it would pay for the damage.
Ms Ripley said she arrived to find police vans blocking the road and her front door smashed.
She said: "I was mortified. I was just upset. I didn't know what to do.
"Me and my family are so anti-drugs, I've never had any connections whatsoever, and I just thought someone had had it in for me.
"And then I realised they must have got the wrong address."
'Acting in good faith'
Sussex Police said officers acted on information from a number of different sources and the warrant to find and arrest a man over drugs offences was granted by a magistrate.
Officers who executed the warrant had to force entry after there was no response from anyone in the house, a police statement said.
Insp James Scott said: "We accept that the occupant of this house and indeed the property itself have no connection with any drugs offences.
"An officer has already visited to apologise for the damage and inconvenience caused.
"We were acting in good faith on the information that we had, but we accept that on this occasion that information was wrong."