Chichester Cathedral peregrines has all-female brood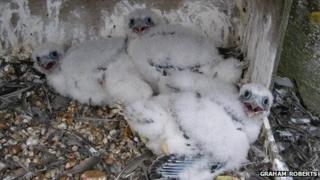 A brood of three peregrine falcon chicks hatched in a nesting box at the top of Chichester Cathedral has been found to be all female.
Sussex Ornithological Society said it was the second time since peregrines began breeding at the cathedral that all the chicks were the same sex.
The chicks were sexed by their weight and the size of their feet when they were ringed at about 21 days old.
The brood brings the total number of chicks raised at the cathedral to 45.
Of those, 21 were male and 24 female.
'Remarkable recovery'
"It's always an exciting moment when I step into the turret to ring the young," said society spokesman Graham Roberts.
"When I installed this nest box 18 years ago peregrines were very rare breeding birds in Sussex. The peregrine population has made a remarkable recovery."
Lightweight metal rings fitted to the birds' legs allow them to be traced for many years.
A chick from the first brood raised at Chichester in 2002 is still alive and has bred every year in Sussex since 2006.
Another, ringed at the cathedral in 2005, has bred in the society's next box on Sussex Heights, a 24-story block of apartments in Brighton, since 2009.
Others have settled in Essex and Surrey.
Shot down
Thousands of people have visited a viewing area set up by the RSPB for the public to watch live footage of the nest since April.
When the young fledge in a few weeks' time visitors will be able to see them learning to fly with free binoculars and telescopes.
During the World War II, peregrines were officially regarded as an enemy and were shot to protect carrier pigeons.
Out of a national population estimated at 700 pairs in the 1930s, about 600 peregrines were killed.
They are now a protected species, with an estimated 1,400 breeding pairs.