Marie Vesco cycle death: Call for 'at fault' law change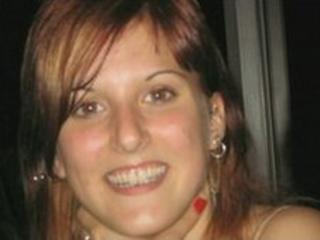 The mother of a teenager killed on a bicycle in Sussex has called for a change in the law to make motorists automatically at fault in an accident.
French student Marie Vesco, 19, died in a collision involving two other cars on the A23 at Hickstead on 4 June 2008 as she cycled to the coast with friends.
On Tuesday, Dominique Vesco said more needed to be done to protect cyclists.
The UK is one of five European countries that do not currently have the law, known as "strict liability".
'Flesh and bones'
On the fifth anniversary of her daughter's death, Ms Vesco added: "Cyclists are like pedestrians, vulnerable to other road users, and you must pay attention to them and do what you must do to protect them.
"Like in Holland, like in Germany, like in France, we have to do more for them."
She added: "You don't have to prove that they are guilty because when you have car you are responsible and you have a weapon in your hands. A car is very heavy, a tonne of metal, and a cyclist is not protected.
"A cyclist has only his flesh, his bones and nothing to protect him."
Under a strict liability law, motorists would be held responsible in the civil courts for all accidents involving cyclists - unless they can prove they were not to blame.
Supporters believe it would greatly reduce the time it takes for accident victims to win compensation.
But the president of the AA Edmund King said: "We are not convinced that changing the law to assume that the driver is automatically at fault will make our roads safer.
"Under the UK legal system drivers are often prosecuted as a result of careless, dangerous driving if in collision with cyclists.
"An assumption of automatic guilt may in fact backfire and lead to more hit-and-run incidents.
"Education, engineering - cycle paths, improved junctions - and enforcement of rules of the road will do far more to improve road safety than changing the law to assume that one party is automatically guilty."
Professor Stephen Glaister, director of the RAC Foundation, said: "Imposing strict, or rather presumed, liability on drivers creates the wrong starting point.
"Making a presumption of guilt before the facts are established goes against principles of justice and risks creating a two-tier system where some road users think they can act with impunity, potentially increasing conflict on the road rather than reducing it."