Brighton and Hove Council backs open air theatre plan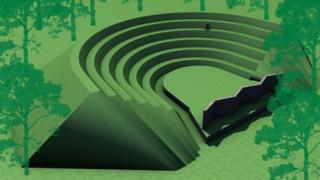 An outdoor theatre that was the dream of a Brighton playwright who died recently has been supported by the city's council.
Adrian Bunting, 47, died of pancreatic cancer at the beginning of May.
Before his death he asked five friends to continue his dream of building an amphitheatre in Brighton.
The site of the former bowling green in Dyke Road Park was shortlisted and has received the support of Brighton and Hove City Council.
Mr Bunting won the Best Theatre award at the Brighton Festival in 2011, for his play Kemble Riot.
In an interview just before he died, he said: "The bowling green was always the place that I'd dreamed of [for the theatre] - it's a magical place."
'Exciting addition'
James Payne, who is one of the friends to have taken on the Brighton Open Air Theatre (Boat) project, said Mr Bunting would have been "blown away" by its progress.
"His spirit was all about getting up and doing it," he said.
The cost of the project is estimated to be £50,000 and a charity event featuring comedians Stewart Lee and Tim Vine is being held at the Brighton Dome on 16 June to raise funds
Councillor Geoffrey Bowden, who is the chairman of the economic development and culture committee, said the proposal offered an "exciting" addition to the city's arts scene.
Finalised architectural plans will be submitted to the council for planning permission.
The project's backers hope it will be completed in time for the Brighton Festival, in May 2014.