Duchess of Cornwall marks chapel centenary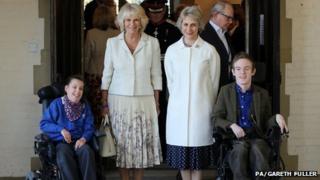 The Duchess of Cornwall has marked the centenary of a landmark chapel in the grounds of a school for disabled children and young adults.
Camilla, accompanied by the Duchess of Gloucester, attended a short service at St Martin's Chapel at Chailey Heritage School, North Chailey, Lewes.
The Duchess of Gloucester unveiled a plaque to mark the occasion at the Grade II listed chapel.
Camilla also opened a life skills centre during Wednesday's visit.
Her mother Rosalind Shand volunteered at Chailey Heritage School for 17 years in the 1960s and 1970s.
The Duchess told children, staff and volunteers at the school the visit brought back "very many happy memories".
She added: "I know wherever she is now, she would be looking down so proudly on Chailey Heritage to see how far it has gone from strength to strength, and she would be very proud and equally pleased that I have come back again after all the work she did here in the past."
St Martin's Chapel, which is regularly used by the school, features a panelled ceiling that is decorated in blue, gold leaf, heraldic bosses and carved angels.
Its spire was covered with oak shingles at the suggestion of writer Rudyard Kipling.
Young disabled people, aged between 19 and 25, can book sessions at the life centre's gym, sauna and spa, and take part in cookery lessons.