Brighton and Hove week-long bin strike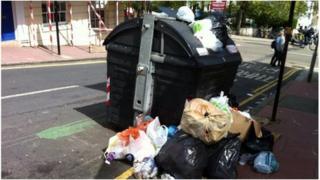 Refuse and recycling workers in Brighton and Hove have voted for a week-long strike in a row over pay.
The GMB union said workers faced pay cuts of up to £4,000 a year and would go on strike from 14 June.
The council said changes to staff terms were driven by a need for a "fair, consistent and transparent" pay and allowances system.
Residents say waste has piled up on streets due to a backlog following an unofficial strike last month.
Brighton and Hove City Council apologised for any disruption, but said it did not believe there was an issue with public health.
Penny Thompson, Brighton and Hove City Council's chief executive, said: "It's very variable, the impact of the unofficial action, and all I can say is that we are doing our best to clear the backlog.
"It's very unpleasant but I have checked with the director of public health and we're keeping the issue under surveillance but we don't think it's a public health risk at the moment."
'Unfair cuts'
She said the strike, however, would "inevitably mean more disruption".
Mark Turner, from the GMB union, said: "A 96% vote in favour of industrial action clearly shows that the workforce are determined to fight these unfair cuts.
"Employees have delivered over £7.5m of efficiency savings for the council, while maintaining a record satisfaction rating of over 89% in the most recent survey of the public.
"In return they have been rewarded with three years of pay freezes and now the council is seeking to implement cuts to their take home pay of up to £4,000 a head."
The union balloted workers in the council's Cityclean department over taking official industrial action.
It said further strikes would be announced at a later date.
Brighton and Hove City Council, run as a minority administration by the Green Party, said changes to staff pay and terms were "not about making savings".
"More people gain through these proposals than lose and anybody who is facing a loss will be compensated," Ms Thompson said.