Brighton roof-collapse escapes 'remarkable'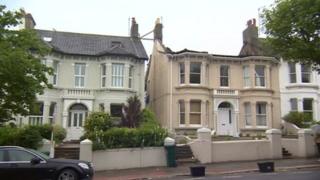 It is "remarkable" that nobody was seriously injured or killed when the roof of a house in Brighton collapsed, firefighters have said.
A woman was rescued by firefighters and other tenants escaped from the Victorian property in Stanford Avenue.
Witnesses said they heard a loud bang as the roof of the building, which has been converted into nine flats, caved in at about 21:45 BST on Monday.
An investigation into the cause of the collapse has started.
Neighbour Liza Groves said: "We could see that the roof had all sort of collapsed and was coming forward, but the lady was looking out of her window, obviously couldn't see above, and I really don't think she realised just how much danger she was in."
Richard Fowler, from East Sussex Fire and Rescue Service, said: "If you look at the pictures of the scene, I think it's remarkable that no one was seriously injured or killed in this incident."
Brighton and Hove City Council said it was working with the landlord to ensure the safety of the building.