Reward for Lewes pigeon arrow attack conviction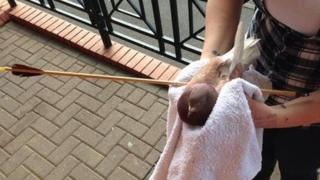 A reward of up to £1,000 has been offered to catch the person who shot a pigeon through the chest with a 2ft (61cm) arrow.
The injured bird was discovered by a member of the public near Malling Field, Lewes, on Sunday afternoon.
A wildlife volunteer from Seahaven Bird Rescue took it to a vet but the pigeon could not be saved.
Sussex Police said officers were investigating the "cruel act" which could have put people at risk too.
Animal rights group People for the Ethical Treatment of Animals (Peta) has offered a reward for information leading to the conviction of those responsible for killing the bird.
'Armed with bow'
Sussex Police wildlife liaison officer, Pc Pete Hall, said: "The bird was found in a park usually very busy with families and which is used as a main route into town.
"I would have expected calls from the public if they had seen the bird or someone armed with a bow and arrow.
"It could be that the bird had managed to fly some way from where it had been shot."
He added: "What is certain is that seeing this bird suffering was distressing and that this was a particularly cruel act.
"Not only that but whoever shot the bird could have could have put the safety of others at risk."