Tampa Bay Buccaneers donate pirate ship to Hastings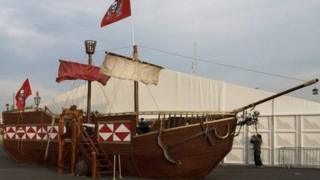 An NFL team has donated a pirate ship to a seaside town to help with its record breaking pirate day festival.
The ship was commissioned by the Tampa Bay Buccaneers to help publicise their clash with the Chicago Bears at Wembley in 2011.
It has been in storage since but now the team has donated it to Hastings.
Roger Crouch, who organises Hastings Pirate Day, said it will be unveiled on 4 July as a thank you to the American Football team.
'Music and razzmatazz'
In 2012 the Hastings Pirate Day set the Guinness World Record for the largest gathering of pirates, with more than 14,000 people dressed up and parading through the East Sussex town.
Mr Crouch said: "It takes an enormous amount of organisation and money.
"We've got the record now and it will be hard to beat."
Mr Crouch said he was first contacted by a representative from the NFL team before Christmas.
"The 4 July opening date is a mark of respect for what they've done," he said.
"There will be cheerleaders, music and razzmatazz.
"We hope to have it on permanent display throughout the year."
The ship is 46ft (14m) long, 20ft (6m) high and 13ft (4m) wide and was built by British events firm GTMS.
It is a smaller replica of one which is permanently based at the team's stadium in Tampa, Florida.
The next Hastings Pirate Day will take place on 21 July.