Brighton's Rich Keam named Australian 'taste master'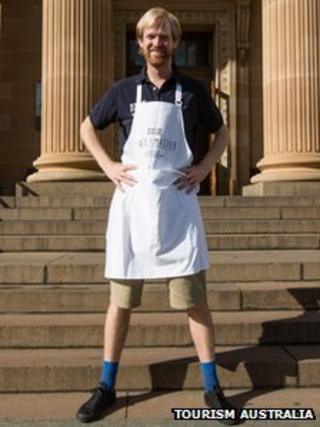 A Brighton man has won a job that will see him eat his way around Australia as part of the country's Best Jobs in the World competition.
Rich Keam, 34, was selected from more than 330,000 applicants worldwide to seek out the best produce, restaurants and bars Australia has to offer.
He will be paid £61,000 for a six-month contract as a "taste master".
Other posts on offer from Tourism Australia included "chief funster" and "outback adventurer".
'Seafood amazing'
A musician and costume designer, Mr Keam said: "It's just my love of food and travel and adventure that really attracted me to the role.
"I love the UK. I love the UK's food, but Western Australia... the seafood is amazing, absolutely amazing.
"I ate a prawn the other day that was more like the size of half a chicken."
He is expected to start before the end of 2013.
Jobseekers were asked to upload a 30-second video explaining why they were suited to the job, then whittled down in a two-month judging period.
The competition was launched following the success of Queensland Tourism's Best Job in the World campaign in 2009, which attracted global attention.