New Shoreham crossing named the Adur Ferry Bridge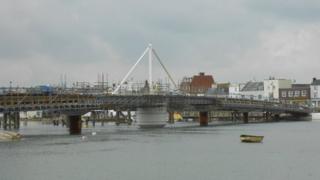 A new £10m swing bridge in a West Sussex town is to be named the Adur Ferry Bridge following a public vote.
The bridge in Shoreham will allow pedestrians, cyclists and mobility scooter users to reach the town centre from Shoreham Beach.
It replaces the old structure after its foundations had "taken a pounding" over the years and it could not be economically repaired.
The bridge will open to the public in September.
A shortlist of six names, from a list of more than 60 suggestions put forward by the public, was drawn up by a judging panel, made up of representatives from Shoreham-By-Sea organisations.
Three hundred and thirty-eight votes were cast in total, with the Adur Ferry Bridge receiving more than a third of them.