East Sussex elms: Public urged to help protect collection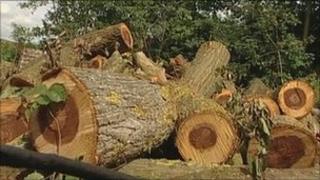 The public is being asked to help protect 17,000 elm trees growing between Brighton and Eastbourne from a disease spread by beetles.
About 450 trees with Dutch elm disease have been felled so far this year, East Sussex County Council said.
The county has one of the country's largest populations of mature elms after controls were set up in 1973 to limit the spread of the disease.
Since 1998, Brighton and Hove has held the National Collection of Elms.
Anthony Becvar, the council's Dutch elm disease officer, said: "These trees make an important contribution to our local landscape and are home to a number of plants and animals.
"We're asking residents to help spot the disease so that we can make sure we keep it under control."
About 1,435 mature trees were felled in 2012 to help prevent the spread of the disease.
Trees are cut down when they become breeding sites for the elm bark beetles which spread a fungus which causes Dutch elm disease, the county council said.
On its website, the council says diseased trees can be identified by yellowing and shrivelled leaves.
The public is being asked to report infected trees and submit photographs to the council.