Blatchington Mill school's anti-homophobia work praised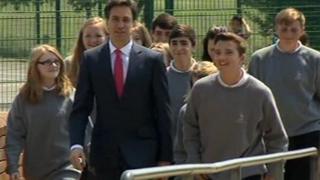 Labour leader Ed Miliband is visiting a school praised for its work on homophobic bullying to discuss the issue with students and parents.
Blatchington Mill in Hove has been named a "champion school" by lesbian, gay and bisexual charity Stonewall.
It has three student equality commissioners to whom other pupils can go to report any bullying issues.
"Recognition from someone as high profile as Ed Miliband is really important," said pupil Rosie Bradley.
The 14-year-old said: "It is important to get the word out that it is OK to accept diversity.
"I had one incident a little while ago when someone came up to me and said, 'I am being picked on because of my sexuality'.
"I went and told a teacher and he told me how to approach it and it is now being handled.
"That person came up to me a couple of months later and said, 'Thank you - my life is a lot easier now."
Stonewall's head of education, Wes Streeting, said homophobic bullying in school was a very serious problem.
"We know from research we have done with teachers that it's not just gay young people who experience homophobic bullying," he said
"It is boys who apply themselves academically, girls who are into sport, boys who aren't into sport and all sorts of gender stereotypes come into play too.
"It can have really serious consequences on people's achievement."
As well as meeting parents, Mr Miliband is holding a question and answer session with students in the Nevill Avenue school's theatre.