Three decades of taking scissors to Wimbledon's stars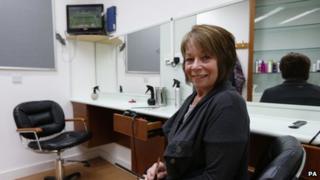 When the Wimbledon women's singles finalists Sabine Lisicki and Marion Bartoli step out on to centre court later they could be forgiven for not concerning themselves too much with how their hair looks.
But one woman at the All England Club will definitely be casting a critical eye over their coiffures.
Suzanne Strong is the official hairstylist of the championships and has been tending to the tresses of tennis' top stars for 31 years.
The 57-year-old, from Henfield in West Sussex, started at Wimbledon when she worked at a hair salon in London that took on a lot of PR activities, the tournament being one of them.
"When I left that salon, I carried on organising the Wimbledon salon," she said.
Since then superstars including Martina Navratilova, Steffi Graf, Andre Agassi, Roger Federer and Novak Djokovic have all looked back at themselves in her mirror.
This year's German finalist Ms Lisicki visited the salon in for a trim the week before the tournament started, leaving her free to concentrate on tennis.
But contrary to what one might expect, Mrs Strong said: "Women don't come in as regularly as the men.
"They would come in once and that would be it. I would say 75% [of our clients] are men."
Sadly for Mrs Strong, Roger Federer failed to put in an appearance at her salon this year, having suffered a shock early-round exit.
"He's a very nice gentleman... one of our favourites," she said. "And he has very nice hair."
'Cut it shorter'
She has also been denied an audience with number one seed Novak Djokovic this summer, whereas, she revealed on Thursday, he came in for a haircut every other day last year.
She believes the Serbian, who is through to the men's singles final after beating Juan Martin del Potro on Friday, could be wary of changing his appearance or routine when he is playing so well.
His opponent on Sunday, Andy Murray, is sporting longer locks this year, according to Mrs Strong.
"Tennis players have a very superstitious streak and if he hadn't had it cut before the tournament, he won't have it cut half way through," she speculated.
"But I would cut it shorter if he came into the salon."
She said since the players come in once a year, the hairdressers do not build up the same sort of relationship that they would with more regular clients.
"They normally want to talk about where they're going out for the evening if they're not talking about their haircut," she said.
"They don't talk about tennis to us. We're not experts on the game so we can't really give them a very good conversation.
"I don't get nervous," she added.
"To me it's a job and they are my client sitting in the chair. Whoever it is gets the best that I can do for them."