Hurstpierpoint village fair marks 700th anniversary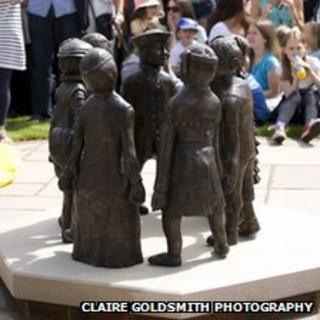 A Sussex village fair granted a Royal Charter in 1313 to hold the event has marked its 700th year.
The St Lawrence Fair, held each year in Hurstpierpoint, is thought to be among the oldest traditional village fairs across the UK.
Steve Whitehead, who sits on the volunteer committee that organises the event, said the theme of "seven" ran throughout the event on Saturday.
A sculpture marking the 700th year was unveiled on the green last week.
The sculpture, called Children of the Fair, was made by artist Sylvia Thornhill, who used to live in the village and taught at St Lawrence primary school, Mr Whitehead said.
It shows a circle of seven children with each one wearing a costume representing a different century.
'Tax-raising move'
He said the charter was granted by Edward VII in the 14th Century.
There had always been a market element and fairs were set up across England at that time to raise taxes from traders running stalls, he added.
But he said: "There were periods obviously when it died away."
He said the event was revived between World War I and World War II to raise money for health services and was later restyled as as the St Lawrence Fair by the local vicar.
Bell-ringers rang 700 changes to mark the start of the fair, which included a procession of floats which each had the theme of "seven".