Inflatable alert as 25,000 visit Camber Sands in Sussex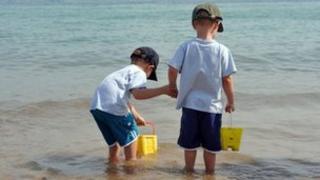 Warnings about the use of inflatable dinghies have been issued with about 25,000 people expected to visit Camber Sands in East Sussex.
Rother District Council's coastal officer Rob Cass said his team would be keeping on eye on off-shore winds as crowds flocked to the beach on one of the hottest weekends of the year.
Even higher numbers were expected at the beach on Sunday, he said.
He urged people to check safety signs, and especially the safety flags.
A red flag meant no bathing and an orange flag meant no inflatables, he added.
"We are keeping our eyes open for north-easterly winds, which obviously means orange flags will probably be flying," he said.
But he advised families with children who did use inflatables to make sure an adult had a rope attached to the dinghy and said they should "just hold fast".
'High alert'
Adding that the predominant wind was south-westerly, which blew on-shore, he said: "Whenever that northerly wind comes aboard, we are always on high alert."
Mr Cass said his team usually dealt with more than 20 missing children on the beach each day and urged parents to use free wristbands that were handed out for children to wear and to write their mobile phone numbers on the wristbands.
He also urged people bringing barbecues to make sure they had a bucket of water to douse down the sand which heated up as much as the coals and said barbecue burns were a common problem.
Traffic congestion was expected during mid-morning, he said.
He added the beach did have parking capacity, but there would be a finite point where his team had to turn people away.
"I don't see that happening today, but possibly tomorrow," he said.