Brighton low emission zone proposed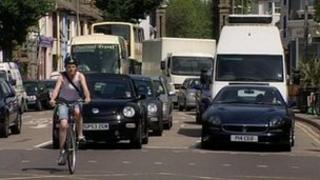 A low emission zone could be introduced in the centre of Brighton under plans to tackle pollution.
The city council is also considering bringing in a "no idling" policy, which could penalise people for leaving their engines running when stationary.
The ruling Green Party's proposals include excluding high polluting vehicles from certain areas or streets.
Last week, Friends of the Earth held a protest about pollution levels in the city centre.
Brighton and Hove City Council said it was working towards the government's target of reduce the UK's greenhouse gas emissions by 80% by 2050.
Ian Davey, the councillor responsible for transport, said the plans were in the early stages.
"We've had air quality problems in the city for many, many years," he said.
"It has been improving, particularly over the last couple of years, but not in the city centre.
"What we need is a focused look at possible solutions."
'Investing heavily'
Mr Davey said a lot of buses, delivery lorries and taxis used the area, and that diesel engines were a major source of the problem.
He said that "green" technology - a shift to "much cleaner" vehicles - could provide the solution.
Martin Harris, managing director of Brighton and Hove Bus Company, said that about 100 of its vehicles drove through the city centre every hour.
He said the firm was "investing heavily" in new buses and wanted to introduce measures to ensure engines cut out when the buses were stationary.