NHS holds talks over Brighton and Hove emergency care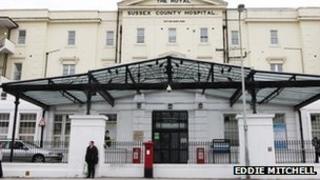 Improvements to emergency care in Brighton and Hove have been discussed at a public meeting in the city.
The city's A&E services have been criticised by a health watchdog, the Health Service Journal and the Royal College of Nursing (RCN) this year.
People were invited to hear what care was available and give views to the Clinical Commissioning Group (CGC) in a meeting earlier.
The RCN said A&E services had improved but were still busy.
Dr Christa Beesley, CGC chief clinical officer, said the aim of Monday's meeting was to raise awareness so people knew when they needed urgent care.
She said many people did not know their pharmacist was a resource and that the new 111 service could be used to get hold of a GP for a patient.
'Not civil'
RCN regional officer Teresa Budrey said changes had been made to A&E at the Royal Sussex County Hospital but services were still busy, so work to raise awareness was "essential".
She said: "There are many people going through those services that may not need that care, and services are having to triage people and manage people back to services that are appropriate."
But the Central Sussex Independent Patients Forum said it was difficult to get GP appointments, and GP emergency clinics were only from Monday to Friday.
Spokeswoman Janice Kent said: "They say 'go to your pharmacist'. Well not all community pharmacists are very pleasant or civil."
Ms Kent said proper, on-call GP services were needed and the NHS had to go back to the drawing board.