Dangerous jet skiers 'increasing' in Sussex seas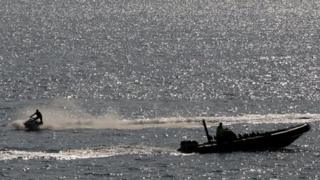 Irresponsible jet skiers are putting swimmers' lives at risk in the sea off Sussex, according to the Coastguard Agency.
The agency said it was a "growing problem" with reports of jet skis being driven at people, including children.
Harbour authorities are in charge of policing the separation between swimmers and jet skiers.
Carey Mackinnon, from the agency, said the "vast majority" of jet skiers were sensible.
He said he recently saw in Chichester Harbour a two-person jet ski carrying four adults and a young child. None of the riders were wearing a life jacket.
'Completely outrageous'
"It's a growing problem," he said. "The vast majority of jet skiers are sensible and have consideration for other people in the water.
"But we've had a growing number of complaints from the public and it's damaging the reputation of jet skiers still further.
"We've had situations where the irresponsible jet skiers have driven at people in the water, including children. Of course this is completely outrageous.
"The coastguard are in a frustrating position - people turn to us to do something about it and unfortunately we have no powers to do so."
'Swimmers hard to spot
Graham Buckley, who is a seafront officer for Brighton and Hove City Council, said policing the jet skiers can be a "bit of a battle".
"We have a patrol boat out most days of the week that enforces these rules and advises people on jet skis, but it can be a bit of a battle sometimes," he said.
"You do get people who choose to ignore the rules, by cutting into the bathing areas around the buoys."
Matt Shipley, who is a jet ski racing champion from Seaford, in East Sussex, said jet skiers have a responsibility to stay within areas, marked by buoys, which separate them from swimmers.
"Swimmers are hard to spot as you'll only see a head," he said.
"Hence the reason we have buoyed areas and you keep outside the swimming areas."