Rolls-Royce Motor Cars creates more than 100 new jobs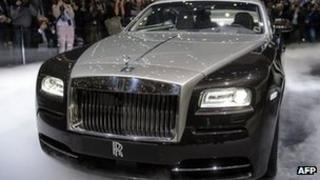 Luxury car manufacturer Rolls-Royce is creating more than 100 jobs as the West Sussex-based firm continues to reap the benefits of record growth.
The company expects about 100 new jobs to be created at its Goodwood home by the end of this year, with a few more at regional centres around the world.
Many Goodwood jobs are office-based, but the rest are related to the production of its new model, Wraith.
Rolls-Royce is expecting to break sales records for the fourth year in a row.
Torsten Muller-Otvos, chief executive of Rolls-Royce Motor Cars, said: "Our cautious optimism at the beginning of the year has proven to be correct, and our goal for the business remains the same - consistent, sustainable growth."
Luxury and power
Sales rose slightly in 2012 following two years of significant growth, and Rolls-Royce, owned by BMW, has expanded the Goodwood complex, with a massive extension of the assembly hall in 2012 and the recruitment of bespoke designers, engineers and craftspeople.
The sustained popularity of the marque has been reflected in the production of the new £200,000 Wraith, the first of which are due to go on sale in the autumn.
Rolls-Royce hopes its most powerful model yet will attract a slightly different market, combining luxury and power.
Business Secretary Vince Cable said the creation of new jobs reflected the continued growth of the industry, and he added: "With the right investment, skills and R&D (research and development), we will help it grow even more."