Sam Medland's killer told PC: 'I just want to die'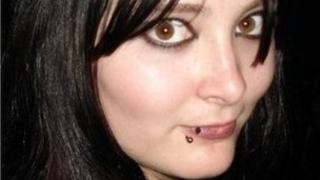 A man who stabbed his wife to death in a Brighton street told a policeman who arrested him: "I just want to die," a court has heard.
PC Mark Tully told Lewes Crown Court Ty Medland was standing with a small knife, "slightly apart" from a crowd gathered around Samantha Medland, 24.
He said he arrested Mr Medland, from Peacehaven, East Sussex, before giving him first aid for cuts to his body.
Mr Medland, 26, has admitted killing his wife in February but denies murder.
Prosecutor Richard Barton told the jury earlier in the trial that Mr Medland, of Cavell Avenue, had arranged to meet his estranged wife to hand over her remaining belongings following their split.
'No sign of breathing'
But when they met in Queen Square in the city centre, on the evening of 17 February, he became angry and attacked her, he said.
PC Tully, a dog handler, told the court there was already a crowd around Mrs Medland when he arrived at Queen Square.
He said: "I couldn't see any movement or any sign of breathing."
When he spotted Mr Medland holding a knife, he shouted: "Police officer, put the knife down."
PC Tully said the defendant put it down immediately.
'Out of consciousness'
It was only after handcuffing him that the officer noticed blood on his own hands and on the handcuffs, and realised that Mr Medland was also injured.
He told the court: "I took the cuffs off and started first aid. He was drifting in and out of consciousness and moaning."
And Mr Medland told him: "I just want to die."
Earlier in the trial Mr Barton told jurors: "You may come to the conclusion that this is very cogent evidence concerning his state of mind and his attitude towards Sam as he prepared to travel on the bus to central Brighton that evening."
He said Mr Medland had texted friends to say that he intended to commit murder and then kill himself.
PC Tully said the defendant had cuts to his wrist, neck and leg.
Mrs Medland was declared dead in hospital after suffering multiple stab wounds, to her face, head, neck and torso.
The trial continues.