Raccoon recaptured after second Drusillas Park escape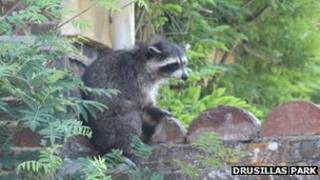 A raccoon which escaped twice from the same enclosure in Drusillas Park in East Sussex has been recaptured.
Bandit first made her escape on 26 April with her sister Turpin who was recaptured a week later.
On 17 May, Bandit was discovered after apparently finding her way back into her enclosure but she broke out again a few weeks later, the zoo said.
A spokeswoman said: "We had been very confident we had found any weak spots after recent renovations."
Bandit was discovered at about 06:30 BST sunbathing on the roof of a garden shed in Alfriston, not far from the zoo.
'Expensive tastes'
Sue Woodgate, the zoo manager at Drusillas, said: "We are delighted to have her back.
"She looks well and seems in good health.
"One resident had even seen her eating avocado and mango from a recycling bin so it looks like she may have adopted some pretty expensive tastes."
The zoo will be running health checks on Bandit before she is returned to the enclosure.