Ty Medland 'was upset over miscarriage'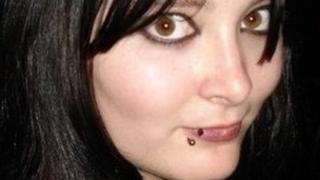 A man who stabbed his wife to death in a Brighton street has told a court that the relationship deteriorated after she lost their unborn baby.
Ty Medland, 26, has admitted killing his wife Samantha in February, a year after the miscarriage, but denies murder.
Mr Medland, from Peacehaven, Sussex said he had met his estranged wife with the intention of harming himself.
He told Lewes Crown Court he remembered very little about the attack.
Mrs Medland, 24, died 18 months after the couple were married.
Her husband told the court in the year leading up to her death, he had been taking anti-depressants.
His depression was triggered when he found out his wife had had a miscarriage, he said.
'Looked terrified'
Mr Medland told the court that on the same day he learned about the loss of the unborn baby, he found out that his three-year-old daughter from a previous relationship had also died.
The jury heard that a year later, Mrs Medland walked out on her husband.
He had agreed to meet her in February to give her some of her possessions.
When defence barrister Graham Trembath QC asked what had then happened, Mr Medland said: "I told her I was going to kill myself, and she said 'go ahead, I don't care'.
"At that point, everything goes black. The next thing I remember is looking down at her.
"She looked terrified and I stabbed myself in the leg."
Mr Medland said he loved his wife and never meant to harm her.
The trial continues.