Brighton and Hove refuse workers end pay dispute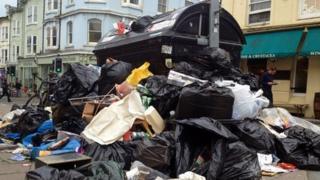 Refuse and recycling workers in Brighton and Hove have ended their pay dispute with the city council.
GMB union members in the council's Cityclean have voted to accept a revised offer, thus ending the threat of further industrial action.
Workers began an unofficial strike in May, followed by a week-long strike last month in response to the Green Party's plans to reduce their pay.
The council's acting chief executive said it was good news for the city.
The union said staff had faced pay cuts of up to £4,000 a year.
More strikes planned for June were suspended as workers considered the new offer.
'Difficult and complex'
Residents complained of waste piling up on the streets during the dispute and businesses in Hove's George Street clubbed together to clean up their street during the strike because they feared the rubbish was harming trade and posing a health hazard.
GMB branch secretary Mark Turner said the negotiations had been "difficult and complex".
He said the end of the dispute would be subject to the agreement being formally signed by both parties, expected by 12 August.
A spokeswoman from Brighton and Hove Council said: "We are in the final weeks of the consultation with all staff on proposals to introduce a consistent, fair, affordable and open system of allowances for staff across the council.
"The allowances system for the whole council will be published once the consultation is concluded."
She said the proposals included waste collections on bank holidays, excluding Christmas, Boxing Day and New Year's Day, changes to shifts to include more work at peak times and changing the routes of rubbish and recycling rounds from October.