Ty Medland 'hid knives up his sleeve before Brighton stabbing'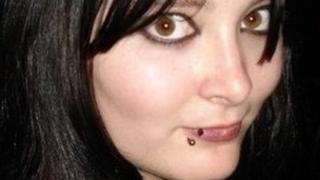 A man who stabbed his wife to death had three knives hidden up his sleeve in the first of two meetings he had with her in Brighton, a court has heard.
When Ty Medland, 26, from Peacehaven, East Sussex, returned to meet his wife Samantha for a second time the same day he also had a fourth knife in his belt.
Mr Medland told the jury at Lewes Crown Court he was planning to use that knife to kill himself.
He has admitted killing his wife in February, but denies murder.
'Cheating and unloyal'
Mrs Medland, 24, suffered stab wounds to her face, head, neck and torso outside her workplace in Queen Square, in the centre of Brighton, on the evening of 17 February.
The couple had been married for 18 months.
The trial earlier heard that she had moved out of Mr Medland's mother's home in Cavell Avenue, Peacehaven, where they lived, on 28 January.
Mr Medland had then arranged to meet her to hand over her remaining belongings.
'Leave us to die'
The court heard that hours before he stabbed his wife to death, Mr Medland sent a message to his friend Paul Connor which said his wife had pushed him to the edge and destroyed everything he believed in.
Prosecutor Richard Barton said it went on: "The only thing I want right now is murder suicide."
Mr Medland also posted a message on Facebook branding his wife as a "cheating, lying, unloyal whore who destroyed everything I loved and believed in".
Mr Barton told Mr Medland: "This shows what you were really thinking at that point."
After stabbing his wife, Mr Medland was heard shouting: "Just leave me to die with my wife," jurors were told.
'Angry, petulant man'
Mr Barton said: "We all have difficult times in our lives... clearly not all those people end up stabbing their wives to death on the streets of Brighton. What's different about you?"
Mr Medland replied: "It was not one thing that happened, it was a multitude of things. I never intended to hurt her."
Mr Barton told Mr Medland that his actions had been those of an "angry, petulant man" and he had decided "that if Sam would not live with you, she should not live at all".
The trial continues.