Renovation work on historic Rottingdean Windmill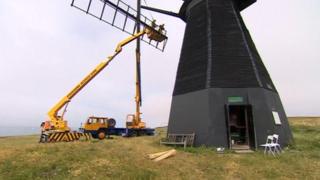 Renovation work has started on the 19th Century Rottingdean Windmill on the Sussex coast.
The Rottingdean Preservation Society received a grant of £41,800 from the Heritage Lottery Fund to carry out work on the Grade II-listed landmark.
Brighton council recently removed graffiti from the structure - damage which sparked a police investigation.
The Smock Mill, believed to have been erected on Beacon Hill in 1802, ground corn and supplied bakeries with flour.
Channel winds
Colin Dellar, from the preservation society said: "It's in a marvellous position stuck up on top of the cliff.
"But of course one of the problems with being stuck on a cliff like this is that [whereas] the majority of windmills are simply battered by wind and rain, here when there's a good Force 9 or Force 10 blowing up the Channel, the sea spray comes over that cliff and we have the problem of corrosion."
According to the society's website, surveys in the 1960s said the windmill had a limited life and could collapse in a day or last 15 years.
A steel framework was put inside the mill at that time and repairs and renovation continued through the 1970s and 80s.
The society made a bid to the Heritage Lottery Fund after finding that strong south westerly winds had taken their toll on the sweeps and they needed replacing.