Killer Ty Medland decided 'wife could not live'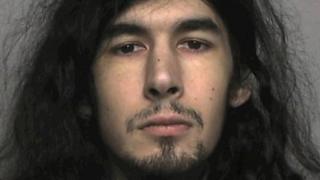 If Samantha Medland could not live with him, then she could not live at all.
That was the reasoning of Ty Medland when he stabbed his estranged wife to death in the centre of Brighton in February.
The "frenzied" killing happened after Medland, 26, discovered his wife had become close to a man she knew from her past.
She had moved out of her mother-in-law's home in Peacehaven, East Sussex, where they lived, weeks earlier.
'Destroyed everything'
Jurors at Lewes Crown Court were told that Medland had made repeated attempts to try to patch up their marriage, which drove his wife further away.
They found him guilty of the murder of his wife Samantha on Friday following a trial.
Determined to keep tabs on her, he used his wife's passwords to access her Facebook account, saw her refer to her growing bond with Chris Woods in messages to friends - and express her belief that her marriage was over.
Medland, described by prosecutor Richard Barton as a "petulant, self-centred man" incapable of dealing with rejection, texted a friend to tell them he was contemplating killing his wife - and then himself - less than four hours before her death.
"The only thing I want right now is murder-suicide," he wrote.
"She pushed me to the edge and destroyed everything...
"But I don't want to go to prison and I'm too scared to kill myself."
In the hours before the killing, Medland also uploaded links to a series of pictures and videos of the pair having sex to his Facebook page.
In the accompanying message, he referred to his 24-year-old wife as the "cheating, lying, unloyal whore who destroyed everything I loved and believed in".
The killer told the court he did it to shame Mrs Medland and cause her emotional pain.
After arranging to meet his wife to hand over some belongings, the court heard that Medland caught a bus to Brighton armed with four knives. Three of them were wedding presents and the other a lock knife, the one he most likely used to kill her.
He proceeded to launch his deadly attack outside her workplace in Queen Square in front of horrified onlookers.
"He lashed out at her in what was an explosive loss of temper on his part," said Mr Barton.
"It is noteworthy that he succeeded comprehensively in the former, that is killing his wife, and failed miserably in the latter - in his attempt on his own life."
'Ray of sunshine'
As a large crowd gathered, Medland used a smaller knife to slash his own wrists and stab himself in the leg, the court heard.
After the brutal assault, he would only move away from her in exchange for a cigarette from a member of the public, who placed one on a low wall nearby.
It was a violent, horrific end to a relationship that began with a meeting at a club in Luton, Bedfordshire, in November 2010. They had hit it off almost immediately through their shared love of heavy metal and computers.
The couple got engaged on Christmas Day 2010, just over a month after they met, and two months later Medland left Sussex to move in with her in Luton.
But Medland had trouble finding work in Bedfordshire and when Mrs Medland ran into difficulties with her job at a hotel, the couple moved to Sussex to live with his mother.
Mrs Medland fell pregnant in the same period but, by January 2012 at the time of her first scan, it emerged she had miscarried, placing a strain on their relationship.
Around the same time, Medland was told of the death of his daughter from a previous relationship.
He started to suffer from depression but Mrs Medland "seemed to deal with things rather better", the court was told.
Medland told a doctor that when he had told his wife he was going to kill himself she had told him "do it", and that he had become angrier and stabbed her, the court heard.
Mr Barton said: "We all have difficult times in our lives. We all from time-to-time suffer from bereavements. There are people who go through break ups of marriages when sadly it's not their fault.
"There are people who suffer from moderate depression and take medication for it.
"But clearly not all those people end up stabbing their wives to death on the streets of Brighton."