Stuntman Eddie Kidd's wife Samantha jailed for assaulting him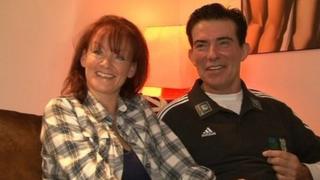 The estranged wife of former motorcycle stuntman Eddie Kidd has been jailed for five months for assaulting him.
Samantha Kidd, 44, tried to throttle her 54-year-old husband, slapped him on the face and chest and kicked him, Brighton magistrates heard.
Mr Kidd, left paralysed and with brain damage when a stunt went wrong in 1996, was on one occasion left shaking and "hysterical", the court heard.
His wife, from East Sussex, admitted four counts of assault.
She was also given a restraining order by the court.
'Pattern of violence'
After sentence was passed, Alissa Scott-Beckett, defending, asked for Kidd, of High Street in Seaford, to be freed on bail, pending the outcome of an appeal.
District judge William Ashworth said: "I have agonised about this sentence and bail is not appropriate."
The judge said Kidd had committed an "abuse of trust and power".
"These four assaults on Eddie Kidd represent a pattern of violent behaviour towards your husband which, taken together, are in the highest bracket for sentencing guidelines because your husband was particularly vulnerable and due to the repeated assaults on a disabled person," he said.
"Whatever you felt about his disability, you didn't shy away from raining six punches on him or slapping, kicking and throttling him so much that you had to be pulled off him."
Prosecutor Suzanne Soros said that in one incident, a witness said Kidd had rained a series of blows on her husband after she was woken up.
Swearing at him, Kidd said: "How do you expect me to sleep?"
'Lost the plot'
Ms Soros said Kidd continued with "a barrage of abuse and swearing" before launching a quick succession of half a dozen blows to her husband's face and head.
The witness said in a statement that Kidd appeared to have "lost the plot" and had to be forced off her husband.
Ms Soros said that Mr Kidd appeared to be "shaken up" by the incident.
"He was completely unable to defend himself from the attack from Sam or take any action to protect his face or head," she said.
On another occasion, Ms Soros said Kidd kicked her husband in retaliation after a carer had difficulty helping him out of a car and into a wheelchair.
She also slapped his chest and called him a "spastic", a word Kidd claimed her husband would use to refer to himself, the court heard.
In a separate incident, the court heard Kidd slapped Mr Kidd's face in "retaliation and frustration" at his hand coming off a rail and coming into contact with her.
Ms Soros said: "In hindsight, she accepts that her view of that had been distorted by her stress and alcohol consumption at the time."
On another occasion, a witness heard Mr Kidd call out, and found Kidd with her hands round the front of Mr Kidd's throat.
'Abused in street'
A struggle ensued and Kidd had to be forced to let go of her husband who was "absolutely hysterical", the court heard.
Ms Scott-Beckett said Mr Kidd had suffered a "serious deterioration" in his physical state, leading Kidd to binge-drinking.
"She found herself still loving Mr Kidd but not being able to mentally cope with the stresses that the relationship had," she said.
Ms Scott-Beckett said that since Kidd had entered her pleas, she had been abused and assaulted in the street.
"Mrs Kidd has suffered from considerable mental anguish," she said.
"She apologises profusely for any mental stress this has caused him."