East Sussex funeral homes' appeal over unclaimed ashes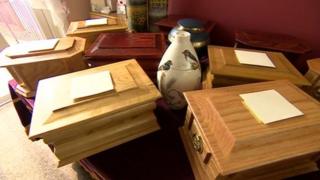 Cremated remains, some dating back to 1971, have been left unclaimed at two funeral homes in East Sussex.
Some 124 sets of ashes have not been collected from Douglas Mercer and Son in Bexhill and Banfield and Pomphrey funeral directors in Hastings.
Many have been at the businesses for more than 20 years, the firms said.
The funeral homes have now launched a joint appeal for relatives to collect the ashes.
Staff realised how many unclaimed sets of ashes they had at a recent meeting between the firms.
After searching fruitlessly for the families, they launched the appeal.
'Leads to heartache'
Asked how ashes could be left unclaimed, Andy Murfitt, funeral director at Douglas Mercer and Son, said: "People could move, it could too painful, people could pass away themselves and leave no instructions.
"We have a number of remains we hold for families, which we will continue to hold of course, until they want them."
Martin Cater, who works as a hearse driver, said: "We so often get people coming in and they don't actually know what mum or dad really wanted.
"That leads to some heartache for those people while they try to sort that out.
"We hope it gets people and their families talking about their future wishes."
There is no current legislation stating how long ashes should be kept for.
The National Association of Funeral Directors, which represents more than 3,600 funeral homes, said its members often kept cremated remains for many years when they were unable to trace relatives.
"Our guidance is that cremated remains should be held for a minimum of five years and that members should make all reasonable efforts to contact someone connected with the deceased," the spokeswoman said.
"If they are unable to then we suggest they advertise in the local media as well as making one final written attempt to contact the person who arranged the funeral, to advise them that if they do not come forward the cremated remains will either be scattered, interned in a local burial ground or cemetery, or returned to the nearest crematorium.
"We always suggest to funeral directors that they avoid this situation by securing good contact details for the personal organising each funeral and signed instructions for the disposal or retention of the cremated remains."